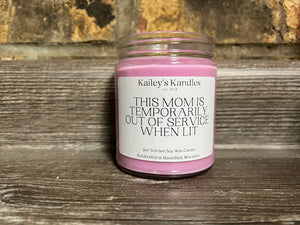 Mom Is Temporarily Out of Service When Lit Candle
Regular price $16.00 Sale
"Mom Is Temporarily Out Of Services When Lit" Soy Candle
PERFECT candle gifts for anybody! It's so simple - choose your scent. We'll handle the rest!

These 9 oz straight sided glass jars are a clean and classic vessel for our all natural soy wax candles. Proper care and burning maintenance can extend the life of these beauties for over 50 hours. Perfect for any room in your home or any gift giving occasion. Select your choices from the drop down menu and we'll get working on your hand poured soy candle!
*Natural Soy candles burn cleaner and longer than other wax. To extend the life of your candle, make sure to burn 2-2.5 hours the first burn. The melted wax should reach all sides of the container evenly. Due to the wax being 100% additive free please be aware of the temperature at all times. We use the highest grade Essential & fragrance Oils in our blends. These oils help keep the air cleaner than artificial fragrances. All fragrances listed as Natural Essential Oils or Aromatherapy tend to be less potent smelling than phthalate free fragrance scents.*

*For safety reasons-please never leave lit candles unattended. Supervision is required around small children and pets. Do not burn for extended periods of time. Do not burn once wax is down to 1/4 inch in jar. Burning candles near curtains, fabrics, or in drafty rooms can be dangerous and damage the way the candles burn please never leave candles unattended.*